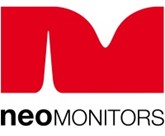 NEO Monitors is a leading manufacturer and supplier of Tuneable Diode Laser Absorption Spectroscopy (TDLAS) gas and dust analyzers, based on over 30 years of high-risk research and development in electro-optics and laser technology. Our Dust and Gas Analyzers are the preferred choice for a broad range of applications within process and emission control.

TDLAS based analyzers provide non-contact true measurement of gas analyte concentration and mount directly to the process without the need for extractive sampling or remote enclosures. Using high quality tunable lasers, the sensors require no spare parts and little maintenance. NEO Monitors TDLAS sensors can be used for combustion analysis, scrubber stack measurements, biogas, process emissions, dust/particle detection and many other applications. Over 30 different gas measurements including CH4, CO, CO2, H2O, O2, NH3, HCl, NOx, H2S, H2 and many more.

For more information, visit the NEO Monitors website or fill out the contact form below.
Products Include: